Text-Only, Accessible, and Mobile Interface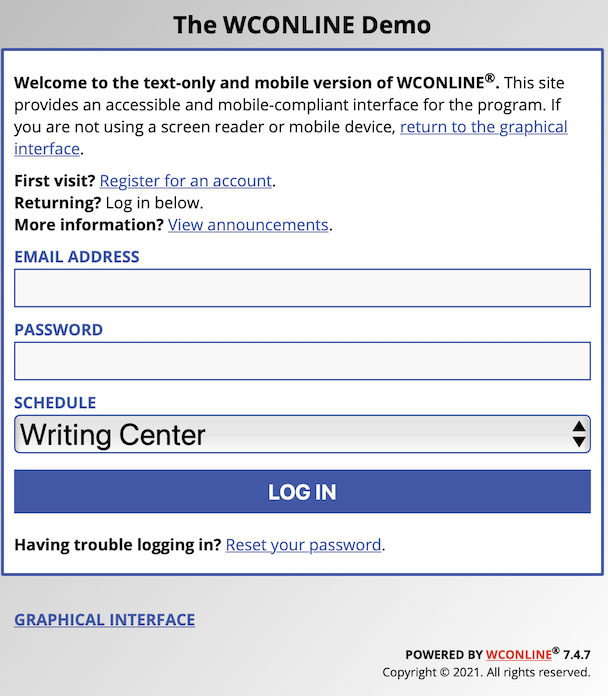 While all of WCONLINE is accessible and possible to use with a screen reader, the text-only area, accessed through the ACCESS TEXT-ONLY/ACCESSIBLE & MOBILE VERSION link that appears at the top left of nearly every page in WCONLINE, is intended for use with screen-reading programs and other accessibility tools. The text-only focus of the interface mimics the functionality of the graphical scheduler, while being fully designed, programmed, and tested for accessibility compliance and ease-of-use. Additionally, while the graphical scheduling interface can be easily used on mobile devices, the text-only interface lends itself to use on smaller devices (such as mobile phones) and is also programmed to be mobile-compliant.
The text-only area makes appointment-making and appointment-management much more efficient with a screen-reading program, as it works quickly with the keyboard (including the tab key) and voice commands. It allows selections from drop-downs that list only the relevant information, and where clients and staff can make the exact selections they need. It also provides access to online appointments conducted through the accessible Online Consultaiton Module.
We also constantly update all aspects of WCONLINE—including the text only system—based on accessibility audits and changes in accessibility-related programming recommendations and technologies. We also maintain a Voluntary Product Accessibility Template for WCONLINE that can be downloaded at any time from http://26llc.com/doc_vpat.pdf.

Using the Text-Only Interface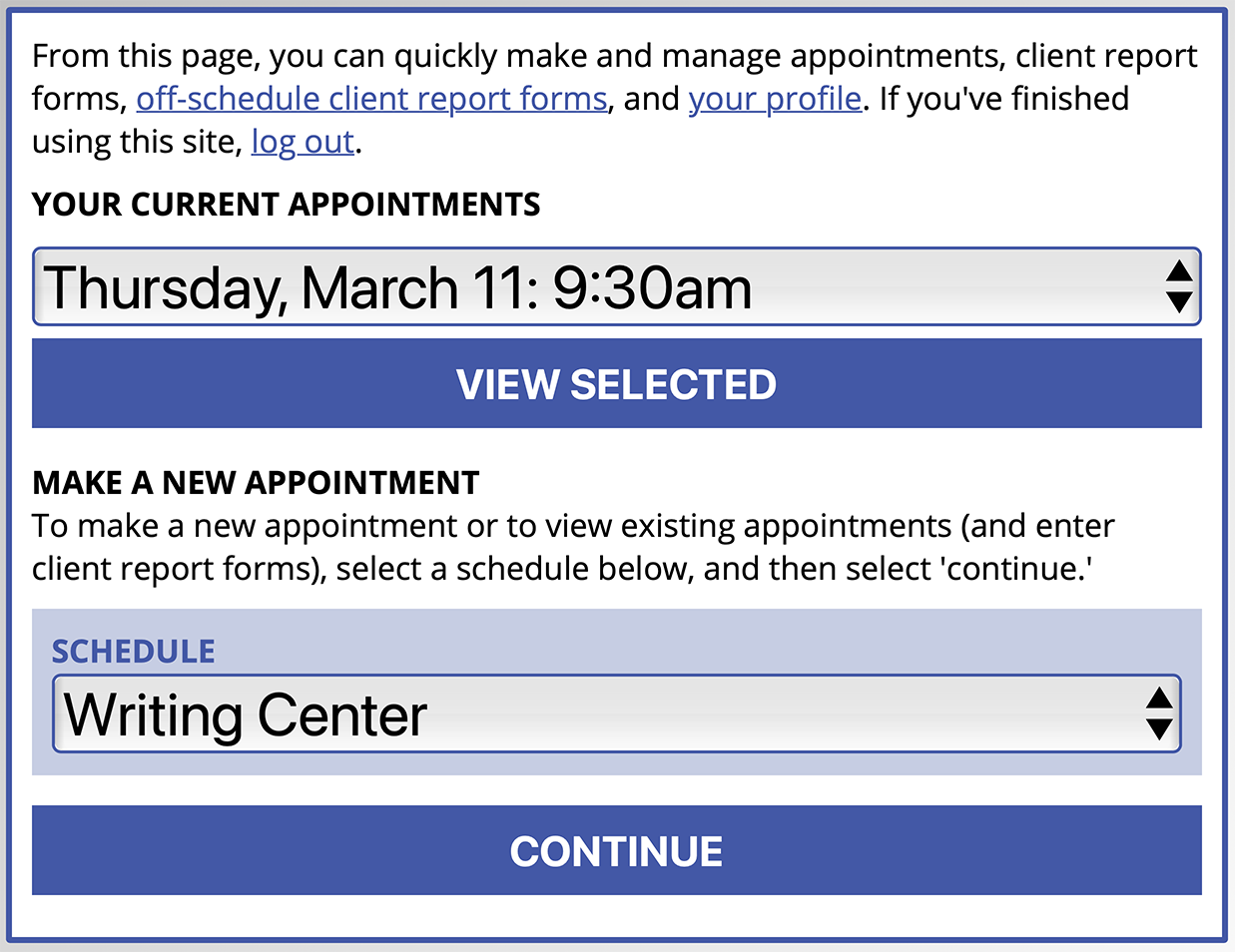 In order to access the text-only and mobile interface, clients select the ACCESS TEXT-ONLY/ACCESSIBLE & MOBILE VERSION link that appears at the top left of nearly every page in WCONLINE. (Most screen-reading programs will automatically highlight that link.) Then, they follow the on-screen instructions to register for an account, view login-page announcements, reset their password, or log in to WCONLINE. Settings implemented throughout WCONLINE that affect the log-in page or process, such as disabling the system or an account, requiring a schedule selection, or implementing single-sign-on, work identically within the text only interface as they do in other areas of the program.
Once a client logs in to the system, they'll find options for making new appointments, accessing existing appointments, updating their profile and email preferences, and reading schedule-specific announcements. Administrators accessing the interface will additionally find options for entering off-schedule client report forms, adding new and working with existing client report forms, and adding and managing client appointments. Settings implemented throughout WCONLINE that affect profile updates, email settings, or the scheduling process (such as resource availability or scheduling limits) work identically within the text only interface as they do in other areas of the program.
Clients can move between the text-only interface and the graphical interface at any time by using the link at the bottom of the text-only interface or at the top of the graphical interface.

Addressing Accessibility-Related Issues
Even with the text-only scheduling interface being completely accessible through any accessibility program—including screen readers—it's certainly possible that a single client might have trouble. That trouble could be caused by any number of things—such as being unfamiliar with the accessibility tool being used, or using browsers not recommended with a given accessibility tool (such as using Chrome with Apple's VoiceOver tool). A client also might misinterpret an appointment error message as a problem with the interface. For example, if a client has reached a scheduling limit, such as a limit on the number of appointments they can make, they won't be able to make additional appointments--just as would be true on the graphical interface.
The text-only system is truly text only. In other words, if a given client is able to navigate other websites and web-forms using an accessibility program, then they can use the same methods to navigate WCONLINE's text-only website. Clients having trouble also might want to reach out to institutional Accessibility Services offices to see what other resources might be available to help. Administrators are also always welcome to reach out to us for additional help or discussion.
---
SECTION 1: The Schedule Display
SECTION 2: Text-Only, Accessible, and Mobile Interface
SECTION 3: Card Reader Support
WCONLINE Product Manual
The product manual is available completely online. Choose a chapter from the list below or use the search tool to perform a keyword search.