In Global System Settings (which you'll find under the "System Configuration" section of the Welcome menu), you can define a variety of system-wide settings and controls. The second section in Global System Settings, titled "General Settings" and available by clicking "GENERAL SETTINGS" in the "JUMP TO" links, provides options for a wide variety of system features (including everything from the setting of your center's local time, to the use of text messaging, to GDPR compliance). As with all control panels, be sure to hover over the blue question marks within the control panel in order to find suggestions and more information about each configuration option.

General Settings: Row #1: Captcha, Text Messaging, and Schedule Choice

USE CAPTCHA: CAPTCHA is a system that prevents spam or automated "bot" registrations by forcing individuals to complete a puzzle before being able to save your registration form. WCONLINE uses the industry-standard reCAPTCHA service from Google. By default, and with a 'Yes' here, a person registering for a new account will need to check an "I'm not a robot" checkbox in order to complete the registration process.
If you decide to disable CAPTCHA, then those registering for accounts on your system will not see or be required to complete the CAPTCHA; however, this could mean that you will find fake or "spam" registrations that were created by automated scripts. The automated registrations typically contain links to sales sites or spam-like messages in an attempt to sell a product. They are not harmful and do not represent a security issue or threat to WCONLINE. If you don't use CAPTCHA and find fake accounts, you can delete them safely and easily in Client and Record Management.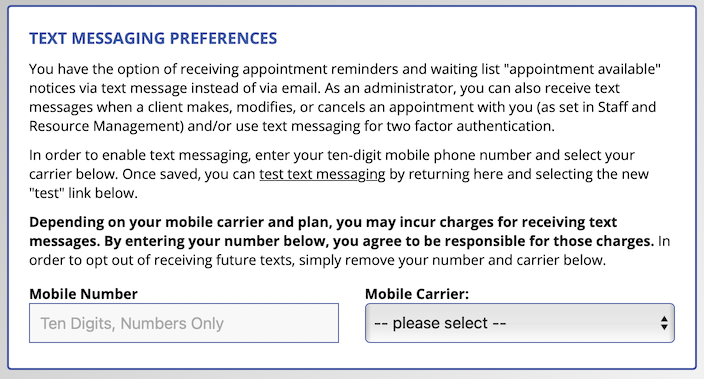 USE TEXT MESSAGING: If enabled, WCONLINE will add a "TEXT MESSAGING PREFERENCES" section to your registration form. When registering or when updating their profile via the "Update Profile & Email Options" option in the Welcome menu, clients can choose to add their mobile number and choose their mobile carrier in order to opt-in to the text messaging system.
Once a client has opted in, they will receive waiting list and appointment reminder messages (as defined in Schedule Management) via text message. Additionally, staff who opt in to text messaging via the options at the bottom of their registration profile will receive copies of appointment confirmation messages as text messages if SEND APPOINTMENT CONFIRMATION MESSAGES is set to "Yes" in Staff and Resource Management. Additionally, if an administrator opts in to text messaging, they can also opt-in to TWO-FACTOR AUTHENTICATION by selecting the appropriate option at the bottom of "Update Profile & Email Options." With two-factor authentication enabled, administrators are sent a one-time password via text that they must enter before being able to fully log in.
If you have text messaging enabled and choose to disable it (by setting this option to "No"), then WCONLINE will remove all mobile number and carrier information from your system. Keep in mind, too, that WCONLINE will not display a client's mobile number to anyone except for the client. This means that, if you want to collect a student's phone number, you'll need to add that to your registration form via FORM SETUP: REGISTRATIONS.

REQ. SCHEDULE CHOICE: By default, the login page pre-selects the default schedule (as set in Schedule Management), allowing an individual to log in simply by entering a valid username and password. If you have multiple schedules and if you would like those logging in to be forced to select a schedule before being able to successfully log in (as a way to ensure that they are consciously choosing the most appropriate schedule), then set this option to 'Yes.' If you only have one schedule that is available to everyone, then this option will be ignored.

General Settings: Row #2: GDPR, Audio/Video, and Email Protocol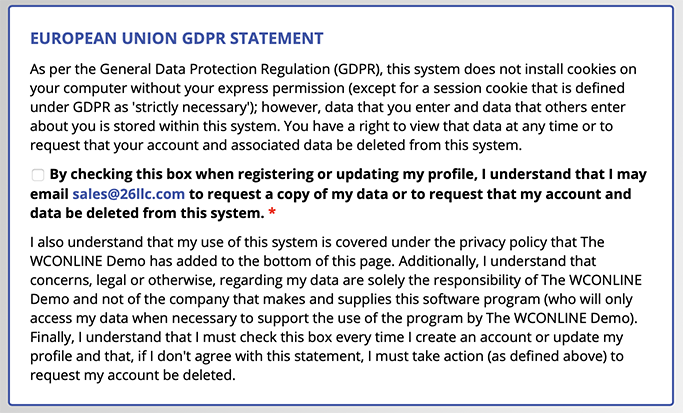 ADD GDPR TO REGISTRATION PROCESS: The European Union's General Data Protection Regulation (GDPR) defines how online systems must handle an individual's data. If your institution is impacted by GDPR, then setting this option to "Yes" will add a GDPR statement to the registration process and require that clients acknowledge your GDPR commitment when they register or update their profiles.
If you enable this option, know that you will most likely need to take additional steps in order to be compliant with GDPR. WCONLINE doesn't set any cookies automatically except for the 'strictly necessary' session cookie (as defined by and immune from GDPR), and WCONLINE doesn't collect data automatically except as entered by a given individual. In order to be fully compliant with the European GDPR laws, however, you must also:
Add a privacy policy to your center's website and link to it via the 'center description' setting above.
Agree to delete a client's account fully if the client asks for such deletion.
Agree to give a client an export of their data (via System Data Export) if the client requests such.

USE AUDIO/VIDEO IN ONLINE MEETINGS: In Staff & Resource Management, you have the option to make your staff available for online consultations through the included Online Consultation Module. By default, that module allows for synchronous collaboration on an uploaded document and communication via a real-time, text-based chat platform. If you set this option to "Yes," then those participating in an online session will be prompted to use their computer's (or mobile device's) camera and microphone during the session. WCONLINE's audio and video system relies on WebRTC, which is a standard for peer-to-peer internet-based audio and video communication, and doesn't require any downloads or special software.

DEFINE EMAIL SENDING PROTOCOL: This setting determines how WCONLINE addresses outgoing emails sent by the system. In almost every situation, this option should be set to 'WCONLINE-Specific.' This tells WCONLINE to send emails with a sender of 'noreply@mywconline.com' and a reply-to address of the CENTER EMAIL ADDRESS as entered in the first section of Global System Settings. In nearly every case, this will let WCONLINE emails through your institutional firewalls and filters while still ensuring that you receive replies to those emails, and will do so without you having to contact your IT department.
If this option is set to 'Institutional,' then WCONLINE will set both the sender email address and the 'reply-to' email address to the CENTER EMAIL ADDRESS. If after doing so you find that emails aren't being delivered or are being blocked as spam, then you'll need to contact your IT department and ask that they whitelist our mail server IP (204.93.202.186).

General Settings: Row #3: Local Time, Scripts Starting Time, and Master Listings Defaults

SET CENTER'S LOCAL TIME: To enable options in WCONLINE that use your local time, select your local time here. If enabled, WCONLINE will use your local time in a variety of ways, including for the 'outgoing timestamp' on most system emails, the 'recorded time' in the time clock and on appointment creation and cancelation displays, and for the availability of iCal calendar email attachments. Additionally, with local time set, non-administrators will be unable to make appointments on the current day for a given start time if that time has already passed locally.
Keep in mind that WCONLINE does not rely on time zone for appointment times, so appointment times are always correct and always display in your local time. In other words, if a client makes a 10am appointment, that appointment will be at 10am in the local center time regardless of what you select here and will be displayed as such in all outgoing emails.

REMINDERS & SCRIPTS STARTING TIME: In Schedule Management, you can set WCONLINE to email or text clients with a reminder of their appointment. In Module Setup: Surveys, you can set WCONLINE to email all students who had an appointment on the given day with an invitation to complete the survey. And, in Module Setup: Time Clock, you can set WCONLINE to automatically clock out individuals who forgot to clock out. This setting determines when all of those automated actions take place. This allows you to select a time that is most convenient to the bulk of your clients; however, be sure to read the information available by hovering over the blue question mark next to this feature about important considerations when adjusting this setting.

MASTER LISTINGS DEFAULT RANGE: In addition to being accessed directly from the Welcome menu and from the icon at the top of the schedule, the Master Listings Report can be accessed via links in Client and Record Mangement, Schedule Management, and Staff and Resource Management. When accessed through one of those control panels (and while the date range of the report can always be changed within the report itself), WCONLINE defaults to displaying the requested list of appointments, no-shows, cancelations, or client report forms from today's date forward one week.
Depending on the workflow at your center, you might find a different default span to be helpful; therefore, this option allows you to specify a different default should a different range be more applicable to your work. Setting the option to 'Today MINUS One Year,' for example, will default the report's display to show all requested data from today through one year ago.

General Settings: Row #4: Hide Administrative-Only Staff, Auto-Refresh, and the Contact Tool

HIDE ADMINISTRATIVE-ONLY STAFF FROM CLIENTS: In Staff and Resource Management, staff or resources can be set to be available to 'Administrators Only' or to 'Everyone.' By default, if a staff or resource is set to be available to 'Administrators Only,' then that staff is still displayed on the schedule, but is unavailable for scheduling by anyone but full or basic administrators. This is typically the best option as it allows for a staff or resource to be displayed on the schedule (so that students know, for example, when walk-in times are) while remaining unavailable for scheduling by non-administrators. If you set this option to "Yes," then administrative-only staff will only be displayed to administrators. This means that, if a non-administrator logs in, that individual will not see those resources in addition to not having access to them.

AUTO-REFRESH ADMIN VIEW? WCONLINE automatically times out anyone who is logged in after approximately thirty to forty-five minutes of inactivity. If your administrators typically access the program from their own computers, then you might find it helpful to set this option to "Yes." If enabled, WCONLINE will automatically refresh the schedule display periodically for administrators. This will allow administrators to remain logged in if they keep their browser on the schedule display. Keep in mind that we recommend setting this option to 'No' if either full or basic administrators typically access WCONLINE from shared computers (such as at a lab or center).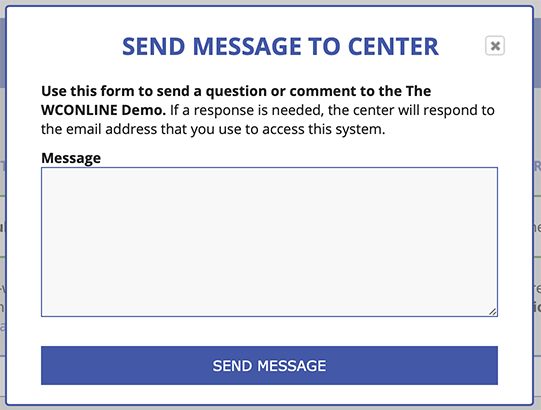 ENABLE 'CONTACT CENTER' TOOL: The "Contact Center" tool provides a quick form that clients can use to send an email to your center. If this option is set to "Yes," WCONLINE will add a contact option to the Welcome menu. When clicked, clients will be able to send a quick question to the center by filling out a short form. That question is sent to the CENTER EMAIL ADDRESS as defined above.

General Settings: Row #5: "Face-to-Face" Labeling and Card Reader Support
HIDE "FACE-TO-FACE LABELING: When staff and resources are set, in Staff and Resource Management, to allow face-to-face appointments only, WCONLINE hides the appointment type label by default. If you would like to display the "Face-to-Face" label on the schedule, disable this option by choosing "No." The "Face-to-Face" label can be customized in LANGUAGE OPTIONS, also in Global System Settings.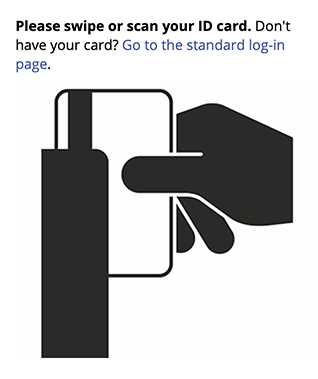 WCONLINE can be paired with a card reader to allow clients to log in to the system, check in for their appointment, or access the time clock by swiping or scanning their institutional ID card at specific computers in your center. The two settings on this row determine how WCONLINE knows what computers have card readers and how swipes or scans are read and handled. For much more extensive information about card readers, including information about the card reader offered through us, visit the "card reader" section of this manual.

ENABLE CARD READER SUPPORT? To enable card reader support, you have to tell WCONLINE what computer or computers have a card reader attached. To do so, enter the static, public IP address of the computer which has the card reader. (WCONLINE will show you the public IP address of the computer you're on when you hover over the blue question mark next to this option). If you have multiple computers with card readers, enter the unique IP address for each, separated by a comma. If your computer doesn't have a unique, public IP address or has an IP address that changes, you may need to reach out to your IT department so that they can assign such an IP to you.

CARD READER PROTOCOL: This setting determines how WCONLINE reads the information attached to your institutional ID cards. For almost all applications and card types, leave this setting set to "Encrypted Protocol." If, while testing the card reader, WCONLINE either isn't recognizing the cards that you swipe or is assigning different cards to the same person, try changing this setting to 'Default Protocol.' This change will allow WCONLINE to look for your card data in a separate track on your ID cards. If neither protocol works, try changing the system to the 'Secondary Protocol' which lets the reader look for data on older ID cards. DO NOT change this setting unless the current setting is not working. Changing this setting will delete all stored card scans in your system which will require everyone to reattach their cards when they next use the reader.
---