Client & Record Management
[ SCROLL TO SECTIONS IN CHAPTER ]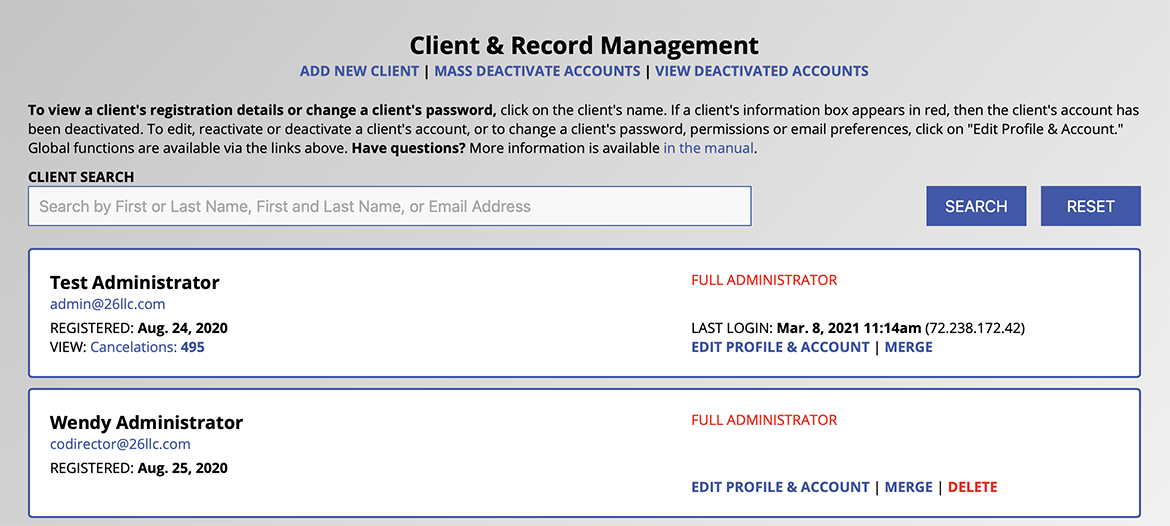 Client and Record Management allows you to work work with the accounts that have been created on your system. Within WCONLINE, everyone who logs in to the system has to create an account by filling out your registration form (as defined in Form Setup: Registrations) or has to access an account that was created by an administrator for them. Within this control panel, you can manage the registration details of clients and administrators, modify a client's permissions to use the system, reset passwords, and work with and manage deactivated accounts.
As with all control panels, be sure to hover over the blue question marks within the control panel in order to find suggestions and more information about each configuration option. If you still have questions about a feature after having done so, find more information on that feature by going to the section in this chapter where that feature is located (as available at the bottom of this page).
The Client and Record Management control panel is available as the first "administrative option" of the Welcome menu. It's typically available to full and basic administrators, although basic administrators can't use the control panel to change a full administrator's password or profile, delete client accounts, or mass deactivate client accounts. When applicable, select a section title in order to go to the manual entry for the options in that area or tool.
CLIENT AND RECORD MANAGEMENT OVERVIEW: This section describes the options within the overview page--the first page that is displayed when you open Client and Record Management. The overview provides access to all of the tools within the control panel and displays information about each client account.
EDIT PROFILE & ACCOUNT: Available as a link to the right of a given client's listing, this tool lets you set client-level options, modify a client's profile, manage a client's permissions, and view early alert notices.
ADD NEW CLIENT: Available as a link at the top of the control panel, this tool lets you create an account for someone.
MASS DEACTIVATE ACCOUNTS: Available as a link at the top of the control panel, this tool lets you deactivate a group of client accounts based on one of several criteria, such as when they last made an appointment or if they've graduated.
REMOVE MOBILE: Available as a link at the top of the control panel, this tool, which will only appear if USE TEXT MESSAGING is set to "Yes" in Global System Settings, lets an administrator remove a mobile number by entering the ten digits associated with that number.
VIEW DEACTIVATED ACCOUNTS: When selected (as available as a link at the top of the control panel), Client and Record Management will only show accounts that have been deactivated either manually or as a result of a no-show policy violation (as set in Global System Settings).
---
SECTION 1: Client and Record Management Overview
SECTION 2: Edit Profile & Account
SECTION 3: Add New & Mass Deactivate Accounts
WCONLINE Product Manual
The product manual is available completely online. Choose a chapter from the list below or use the search tool to perform a keyword search.