Access, Access Levels, and the Schedule
[ SCROLL TO SECTIONS IN CHAPTER ]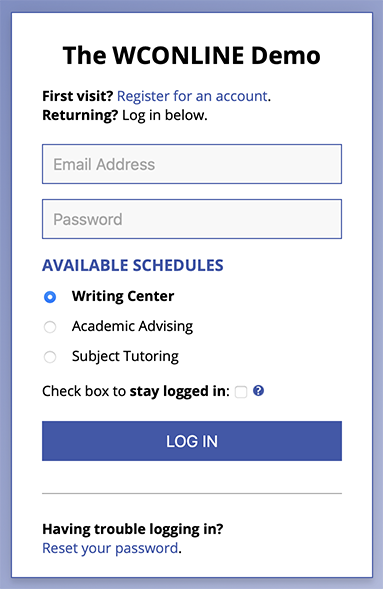 Within WCONLINE, everyone who logs in to the system has to create an account by filling out your registration form (as defined in Form Setup: Registrations) or has to access an account that was created by an administrator for them. Typically, individuals can create their account by filling out your registration form by following the "First visit? Register for an account." link on your WCONLINE login page. Administrators can also create an account by using the ADD NEW CLIENT tool at the top of the schedule display or at the top of Client and Record Management.
If you've enabled Single-Sign-On or LDAP in Global System Settings, then individuals will log in to WCONLINE using their institutional credentials. If they've never accessed the system before, they'll be taken to your registration form in order to create their new account and answer your registration questions. If they have accessed the system before, then they'll be taken directly to your schedule.
Clients and administrators using a mobile device or who might benefit from a text-only, fully accessible version of WCONLINE should use the text-only/accessible and mobile version of the program.
If your center has a kiosk or computer where clients or staff check in upon arrival at your center, consider using a card reader with WCONLINE in order to let individuals log in and check in by swiping an institutional ID card.
If you want to see and work with the registered accounts, you'll use Client and Record Management.
If you want to add announcements or information to the login page, such as information on center policies or special programs, you'll use Announcement Management to add a login-page announcement.
If an individual has trouble registering for an account on the system, ask the individual what error message they're seeing when they try. Error messages are explicit in WCONLINE and state exactly why a registration, for example, is being denied.
Once an individual logs into the system, they're recognized by their email address as one of three types of system users: A client (on non-administrator), a Basic Administrator, or a Full Administrator. Administrative access itself is bestowed using the Administrative Access Management control panel, which is available at the top of Staff and Resource Management. Administrative access can be granted or taken away at any time.
If an individual is unable to log in because their account is disabled, check and modify the status of their account in Client and Record Management.
If an individual forgot their password, ask them to use the password reset tool at the bottom of the login area on the login page, or change the individual's password for them in Client and Record Management. After a client enters their email address in the password reset tool's prompt, they'll immediately receive an email asking them to confirm the password reset. Once they select the link in that email, their password will be immediately sent via a second email. If a client doesn't receive the emails, ask them to check their spam folders. Once logged in, clients can change their passwords to something more memorable using the Update Profile & Email Options control panel.

Full Administrators, Basic Administrators, and Clients
Full Administrators are typically center directors or management and have access to all of the features and control panels within WCONLINE. Because of their full power over WCONLINE, we recommend limiting the number of full administrators as much as possible. Full administrators have complete access to all data on your system--including the ability to export all data via the System Data Export tool. They can also make appointments without being restricted by scheduling or required form limits (with exceptions noted directly on the various forms).
Basic Administrators, a status typically given to center employees (such as tutors, consultants, or other staff), have the ability to view all appointments, make appointments for others, enter and view client report forms, and access the control panels that they're given access to via options in Global System Settings. By default, basic administrators do not have access to most of the control panels in WCONLINE and cannot delete large amounts of information from the system. Basic administrators, though, can make appointments for students in excess of most scheduling limits and do not have to fill in most required fields (with exceptions noted directly on the various forms).
Clients are non-administrators or, in most cases, students who are using the services of your center. Clients only have access to their own data within WCONLINE and can only see their own appointments. Clients do not have access to any of the administrative options on your various forms or to any of the administrative control panels within the Welcome menu. Clients also cannot access post-session client report forms about their appointments (as those forms are only available to administrators. In essence, clients can create and manage their account and make and manage their own appointments.
---
SECTION 1: The Schedule Display
SECTION 2: Text-Only, Accessible, and Mobile Interface
SECTION 3: Card Reader Support
WCONLINE Product Manual
The product manual is available completely online. Choose a chapter from the list below or use the search tool to perform a keyword search.