Synchronous Online Meetings
[ SCROLL TO SECTIONS IN CHAPTER ]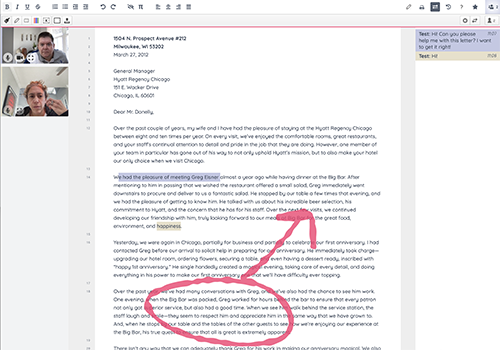 The Online Consultation Module, a synchronous meeting tool built into WCONLINE, provides a virtual meeting space where a staff member can meet with clients either one-on-one or in groups of up to ten participants. The Module's main feature is a truly synchronous whiteboard where a text-based document can be manipulated in real-time (and at the same time) by all of the participants in a meeting. In addition to the whiteboard, the Online Consultation Module includes text chat, video and audio capabilities, a drawing tool, and a tool designed for working on complex mathematical equations. The Module also provides a "timeslider" that allows for document changes made during a session to be reviewed and import, export, and formatting tools.
Unlike many online meeting technologies, WCONLINE's Online Consultation Module doesn't require specialized software, the installation of software, or a download. The Module also works equally well in all modern browsers including Edge, Firefox, Safari, and Chrome across OS X, iOS, Windows, and Android.
(WCONLINE also has tools for asynchronous eTutoring meetings. These are typically meetings where a client uploads a paper and a staff member uploads a response at a later time. eTutoring appointments are discussed elsewhere in the manual.)
The Online Consultation Module is enabled via the IN-PERSON & ONLINE AVAILABILITY setting for each staff or resource in Staff or Resource Management. Audio and video capabilities are enabled via the USE AUDIO/VIDEO IN ONLINE MEETINGS setting in Global System Settings. Finally, the language used to talk about online meetings in WCONLINE is configured in the "Language Options" control panel available via link at the top of Global System Settings.
After making an online appointment (by selecting "online" when making the appointment with a staff or resource that supports online appointments), the client and the staff member enter the online session by opening the appointment and then clicking on the "start or join" link that appears on the appointment form. WCONLINE retains online meeting session data for as long as the appointment remains on the schedule.
---
SECTION 1: Setting Up the Online Consultation Module
SECTION 2: Using the Online Consultation Module
SECTION 3: Synchronous Online Meetings: FAQ & Troubleshooting
WCONLINE Product Manual
The product manual is available completely online. Choose a chapter from the list below or use the search tool to perform a keyword search.